Here you can find information about my work as a sound designer. I have created professional sound design for the stage for the last 8 years.

You can read about what productions that I work with now,
and which I have worked with earlier.
I also tell you what tools I use in my work as a sound designer.

Hi, my name is Erik Hedin
I am a sound designer for preforming arts.
I have a bachelor degree in
"sound design for preforming arts"
from Dramatiska Institutet in Stockholm.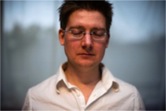 Contact me about sound design,
musical composition, lectures
or if you have any questions.

Contact me on telephone: (+47) 41779919
or
erik@ljudet.com

The picture of me was taken by Tobias Avlund Heiberg